Wildbill wrote:

...
Specifically, Matoya's clothing is very particular about how it let's you pick it up! The placement of the
character, if I recall, is somewhat behind the pile not directly over it. You will find other quirky placements in
the game as well.
...
Good work, Jer... Don't forget to start collecting monster Figurines. The Monster Arena and collecting the baddies
is capable of using as much game time as two or three chapters!
Yes, you are correct on the sprite placement in conjunction with Matoyas clothing.
As for the Monster Arena and it taking time...I can surmise that it would take a fair while to do. It is fun to pit
monsters aginst other monsters or make bets on monster fights. I am glad to see this concept in this video game,
which is very full already, mini games notwithstanding. Wildbill, you are very much right about the Monster Arena
taking along time. I wonder if most of the time is in turning monsters into figurines. Most of the time I come up
"miss"ing when I use the "create figurine" command. At first I thought this might be due to my stats not being high
enough over the monsters own stats. I tried to solve this problem by coming back to weaker monsters and continuing
to use "create figurine" command. This yielded no better results. I then proceeded to use debuffs. I used all that
were available to me at the time stone, sleep, slow etc etc. I also used buffs on main character magic up, attack
power up ect ect. This also did not yield better results. Sometimes I would use the "create figurine" and it would
work outright, as a first move even, on monsters my own level. I have some to the conclusion that "create figurine"
command works or misses on a random basis, yet leaning towards miss. All in all, I still love it and use the command
at least once every battle.
Well, I have just recived the Ark of Fire. This puts me in the fifth world. I am fully enjoying Mystic Ark 1.01beta.
I am on the look-out for any bugs. I may have found some or they may be nothing at all. It is not my intent to point
out every little minor detail and say "hey looky here, I found this, fix it" I only wish to bring things that seem,
[to me(thought I am no expert)] out of place to your attention. If I come across as hypercritical, I am not trying
to be and I apologize. I'm a perfectionist, which I look at as a curse. I also like to ramble on. Which sometimes
causes me to digress off my main point. Speaking of main point...I just finished the fourth world. I may have found
a typo, though I may be mistaken (I usually am) and the grammatical error is of my own shortcomings. The word in
question is "medusa" and "medusae" perhaps "medusae" is the correct spelling of a plural medusa. I don't know, but I
bring it to your attention.
I have found one more, this also is most likely a problem with my own comprehension. But just incase I bring it to
your attention. In Duplo, there is no sound, you have to learn sign language to communicate with NPCs. The NPC that
teaches you sign language "pulls out pen and paper" and asks "Have you ever heard of sign language?". To this you
get the option of answering "yes" or "no" To me it seems that if you (main character) have not heard of sign
language then this would then be the time to learn it. I answered "no" thinking the NPC would teach me sign
language. Here's four screen shots of that situation.
which leads to
At this point the conversation ends but you have the option of starting the conversation over. Once again "Have you
heard of sign language?"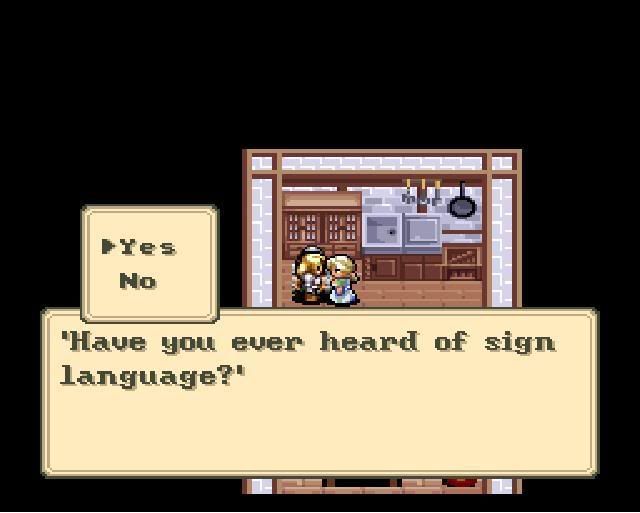 "Yes" but
when answering yes the NPC says
It seems to me, that if we (main character) have not heard of sign language, then the NPC would be able to surmise
that we are indeed "strangers" and would need a lesson in sign language. But we have to answer that we have heard of
sign language before we can learn to speak it.
Perhaps I am saying too much about it, here's the short format of what I am trying to bring to attention...Is the
first choices of "yes" and "no" jumbled up?
That's all I could find. Nothing bigger then those two situations, if situations they were. I am sure that the
spelling and comprehension misunderstanding are my own. Dynamic Designs team has done such a masterful job with
Mystic Ark. I also I love what you guys did here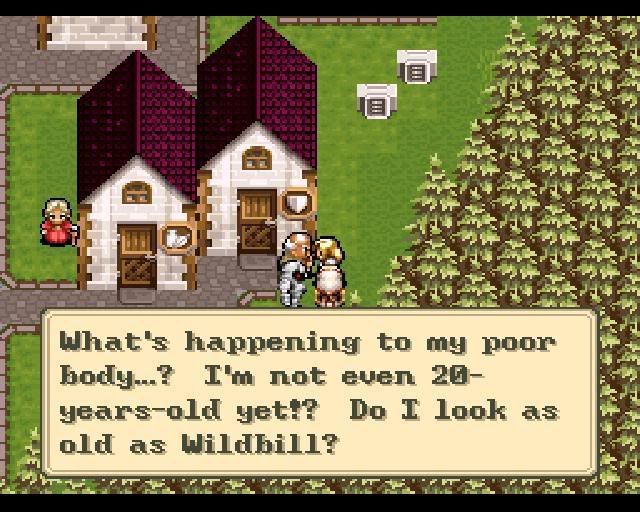 I laughed out loud. Extra kudos for you
guys, you have a great sense of humor.